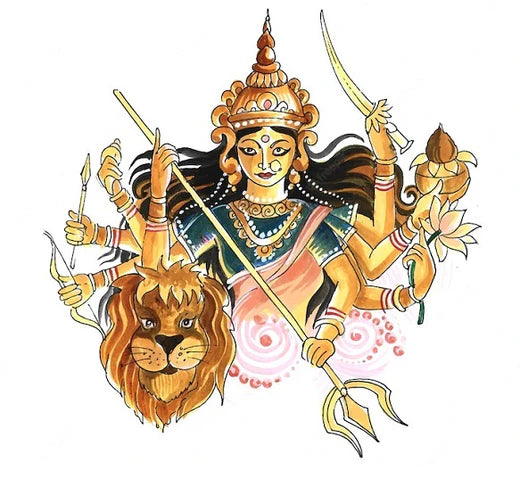 Nine days of Purity and Worship
Navratri, which translates to "nine nights" in English, is a sacred festival celebrated over nine days, starting from the day of the new moon. Each of these nine days holds a specific significance, deeply connected to the divine Devi, represented through the Akhand Diya. Although Navratri is observed in various months across different regions of India, the most prominent celebration takes place in October, honoring the goddess of learning.
This nationwide festival, embraced by people from all walks of life, symbolizes the triumph of good over evil. Navratri encourages individuals to seek inner peace by withdrawing from sensory distractions and delving deep within themselves. It is a time for cleansing negative qualities, embracing joy, and cultivating happiness. To facilitate this transformative journey, nine days of celebration and worship are dedicated to nine different goddesses. This includes the preparation of the sacred Akhand Diya, the purchase of beautifully decorated dandiya online, the adornment of stages, the chanting of Hindu scriptures, and various other rituals. Navratri is a period when people feel a profound sense of love and heightened spirits. It rejuvenates and refreshes individuals of all ages and genders, uniting them through the divine power of the goddess.
Furthermore, Navratri signifies one of the fundamental human needs - the realization of one's full potential. These nine days are a reflection of personal growth, with the tenth day, known as Vijayadashami, symbolizing the moment when a person blossoms into their true potential.
To delve deeper into the significance of these nine days, we must explore the three dimensions of the feminine, embodied by Durga, Saraswati, and Lakshmi. Durga represents the Earth and inertia, Saraswati symbolizes the Moon and knowledge, while Lakshmi embodies the Sun and passion. People seeking different attributes worship these goddesses accordingly. Those seeking influence and strength devote themselves to Durga or Kali, while Saraswati is revered by those aspiring to wisdom, and Lakshmi by those aspiring to wealth. Devotees often experience an increase in their energy levels after these nine days of worship.
Navratri is also characterized by a specific color scheme, with each day associated with a particular color representing the goddess's significance:
Day 1 (Red - Shailaputri): Signifies the power of Brahma, Vishnu, and Mahesh through the avatar of goddess Parvati.
Day 2 (Royal Blue - Brahmacharini): Represents calmness, harmony, elegance, and wealth.
Day 3 (Yellow): Symbolizes beauty and bravery, fostering serenity and harmony among all.
Day 4 (Green - Kushmunda): Represents life, greenery, and vegetation.
Day 5 (Grey): Signifies the powerful yet tender relationship between a mother and her child.
Day 6 (Orange - Katyayani): Reflects courage and bravery.
Day 7 (White - Kalratri): Symbolizes peace, even in the face of great power.
Day 8 (Pink): Represents intelligence and optimism.
Day 9 (Sky Blue): Radiates happiness, blessings, and positivity, akin to the pure blue sky.
In addition to the symbolism of colors, one of the most significant aspects of Navratri is the Akhand Diya, often referred to as "Maa ki Jyoti." This continuously burning oil lamp is a sacred symbol of knowledge, good luck, purity, and prosperity. In Hinduism, no worship is considered complete without lighting the Akhand Diya. It is a powerful tool to dispel darkness and is adorned with flowers. Typically made of brass, it holds deep significance in Navratri rituals.
Navratri also brings the joy of dancing. There are two primary dance forms associated with the festival:
Garba: A traditional dance where participants form a circle, clap their hands to the beat, and gradually increase the tempo.

Dandiya Raas: This dance involves using decorated dandiya sticks, which can be conveniently purchased online. These sticks are adorned with various colorful designs and shimmering details. They symbolize the Devi's sword and represent the battle between the goddess and the demon. Dandiya Raas is often danced with a partner and is sometimes referred to as "The Sword Dance."
Navratri is celebrated across the nation with deep spirituality, symbolized by the Akhand Diya, and vibrant joy, embodied in the energetic dance using beautifully decorated dandiya sticks. It is a time for introspection, personal growth, and the celebration of the divine power of the goddess, bringing people together in unity and harmony.
For all your Navratri needs, including beautifully decorated dandiya sticks, you can explore SatvikWorld.com for a wide range of offerings and celebrate this auspicious festival with fervor and devotion.
PUJA ITEMS ONLINE IN USA | PUJA ITEMS ONLINE IN UK | PUJA ITEMS ONLINE IN NEW ZEALAND | PUJA ITEMS ONLINE IN DUBAI | PUJA ITEMS ONLINE IN EUROPE
PUJA ITEMS ONLINE IN UNITED STATES | PUJA ITEMS ONLINE IN AUSTRALIA | PUJA ITEMS ONLINE IN UAE | PUJA ITEMS ONLINE IN SINGAPORE | PUJA ITEMS ONLINE IN LONDON | PUJA ITEMS ONLINE IN CANADA | PUJA ITEMS ONLINE IN MAURITIUS | PUJA ITEMS ONLINE IN EUROPE | PUJA ITEMS ONLINE IN MALAYSIA | PUJA ITEMS ONLINE IN GERMANY