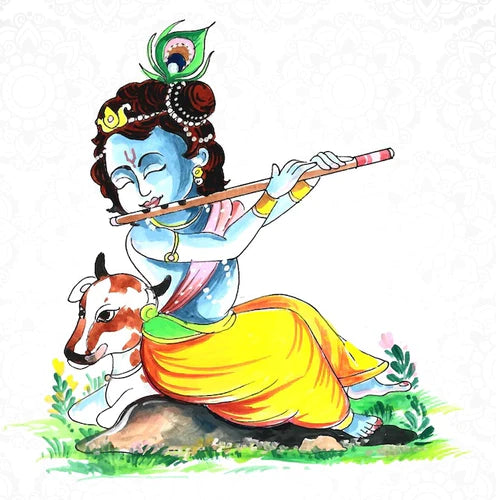 Krishna Bhakti, a medium for salvation
Lord Krishna, the eighth incarnation of Lord Vishnu, is revered as the deity of safety, benevolence, kindness, and love. His divine presence as Laddu Gopal attracts a vast following not only in India but also among people from various corners of the world.
To comprehend the immense popularity of Laddu Gopal among ordinary people, it is essential to delve into the early life of this divine figure. Often referred to as Krishna Charitas, the legends and tales surrounding Lord Krishna's birth and upbringing narrate a fascinating story. According to these legends, Krishna was born to Devaki and her husband Vasudeva. Their wedding was marked by an ominous prophecy that predicted the demise of Devaki's brother, Kansa, at the hands of Devaki's child. Terrified by this revelation, Kansa imprisoned Devaki and her husband. However, despite their captivity, Lord Krishna was born. His father, Vasudeva, miraculously transported him across the Yamuna River to the care of his foster parents. The young Krishna is affectionately known as Laddu Gopal, and in Hindu households across India, Krishna Bhakti is expressed through the presence of a Laddu Gopal murti in home temples. Devotees treat Laddu Gopal like a beloved family member, following strict rituals to ensure his happiness. Laddu Gopal is lovingly adorned with beautiful attire, placed on a Laddu Gopal singhasan, and showered with affection.
As a child, Krishna was renowned in his village for his mischievous antics, especially his penchant for stealing butter and curd with his friends. As he grew into a youth, Laddu Gopal became a legendary lover, his flute's enchanting melody drawing the gopis out of their homes to dance with him in the moonlight. He was also known for his extraordinary miracles and his ability to defeat demons from a young age. In essence, everyone cherished the mischievous Laddu Gopal.
Welcoming Laddu Gopal into one's home is believed to bring happiness, good fortune, and prosperity to the entire family. The Laddu Gopal murti, along with the Laddu Gopal singhasan, is installed in the household and worshipped daily. Devotees meticulously care for Laddu Gopal, from daily bathing to cradling in a swing, offering prasad at specific intervals, and adorning him with elaborate shringar. Serving the Lord in this manner is considered a blessing, a privilege not granted to all.
Janmashtami, the annual festival celebrating Lord Krishna's birth, holds great significance. It can be observed in Hindu temples or within the confines of one's home. Devotees gather in temples for devotional songs and prayers, remembering the chaotic circumstances surrounding Lord Krishna's birth and his parents' struggle to protect him from the tyrannical King Kansa. Laddu Gopal murtis grace the homes of countless Indian families, demonstrating the widespread devotion to this divine figure. Devotees spare no effort to make Laddu Gopal happy, adorning him in exquisite attire and decorating his singhasan with flowers and peacock feathers. Laddu Gopal's birthday is celebrated with fervor and enthusiasm.
In a world where many people are preoccupied with criticizing others and harboring jealousy, it's important to remember that love requires free will. To promote self-awareness and help oneself and others, especially in terms of mental well-being, people seek a connection with Lord Krishna. It is said that Laddu Gopal ji values intention and purpose over material offerings. One need only possess the genuine free will to seek his blessings. Even those with nothing material to offer can present the Lord with the most valuable gift: purity of heart. Helping others doesn't require wealth or possessions; it's the effort and sincerity that matter most in the eyes of Laddu Gopal ji.
Chanting the holy name of the Lord is sufficient to open one's mind and enlighten the soul, leading to salvation. Earthly possessions no longer hold the same allure, as negativities, jealousy, and desires dissipate from the body and soul.
As stated in the Bhagavad Gita, Lord Krishna resides in the heart of every individual. When one seeks his blessings with love, devotion, and an absence of hatred, the Lord responds by bestowing his pure love upon the devotee. Cleansing the soul from within allows one to discover the true meaning of life
PUJA ITEMS ONLINE IN USA | PUJA ITEMS ONLINE IN UK | PUJA ITEMS ONLINE IN NEW ZEALAND | PUJA ITEMS ONLINE IN DUBAI | PUJA ITEMS ONLINE IN EUROPE
PUJA ITEMS ONLINE IN UNITED STATES | PUJA ITEMS ONLINE IN AUSTRALIA | PUJA ITEMS ONLINE IN UAE | PUJA ITEMS ONLINE IN SINGAPORE | PUJA ITEMS ONLINE IN LONDON | PUJA ITEMS ONLINE IN CANADA | PUJA ITEMS ONLINE IN MAURITIUS | PUJA ITEMS ONLINE IN EUROPE | PUJA ITEMS ONLINE IN MALAYSIA | PUJA ITEMS ONLINE IN GERMANY